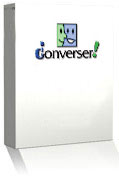 Other Verticals
Don't speak Spanish? With Converser™, you do … reliably, and right now!

Spoken Translation, Inc. (STI) combines automatic translation and voice services to yield the world's first industrial-strength solution for cross-lingual communication, Converser™.

With Converser™, you can speak into a microphone in one language and then hear the computer pronounce a translated version in another language - a version you're confident is accurate, since you've been able to monitor and correct its progress at several stages.

Converser™ also enables communication through multiple modes of data entry: in addition to speech recognition, you can use hand-writing recognition technology, touch-screen keyboards, or standard keyboards. The system automatically provides specially controlled re-translations, or "back-translations," of input sentences, lending confidence that the translation says what you mean. And if speech recognition or translation errors are found, they can be easily corrected via unique Speech Cues™ and Meaning Cues™ technology.

Converser™ for Healthcare is the first Converser™ vertical application, designed to mediate between healthcare providers who speak only English and patients who only speak Spanish.

Converser ™provides an affordable, reliable, 24/7 translation solution

Imagine an inexpensive, portable system that can instantly translate your questions and instructions into clear written or spoken Spanish or another language.

Benefits

Affordability:
The cost is far less than for professional interpreters, whether they are working in person or by phone.

Verifiability:
Each translation is automatically translated back into the source language for review and final edits prior to sending. Unique Meaning Cues™ help you choose the right word meanings each time.

Accessibility:
A reliable translation system is available anywhere, 24/7.

Ease of use and friendly interface:
With minimal, clear training in one's native language, Converser™ is easy to learn in minutes.

Privacy and direct communication:
No third parties need be involved.

Consistency:
A specified translation can be re-used for given expressions.

Efficiency:
Choose from a wide selection of pre-coded Translation Shortcuts™ and save new expressions as templates.

Record-keeping:
Transcripts can easily be created and saved. Converser™ is not intended to fully replace human interpreters, with human hearts and minds. However, it will reduce interpreting costs, and will be invaluable when accessibility to interpreters is limited.
Converser is extensible into these spaces:
Customer Support/ Technical Support
Call Centers
Travel/Tourism
International Business
Legal
Department of Defense initiatives
Immigration
Law Enforcement
Online Dating
Global Enterprise Communication
Training and Human Resources
Social/Familial Communications
Public Agencies
For product development and partnership inquiries, contact:
Robert Aiudi, Vice President of Sales and Business Development
Dina Moskowitz, Vice President of Marketing & Communications